Keeping your bridges well-grounded
From our Bolt-A-Bin Cellular Metal Bin Style System to our MSE Retaining Wall System, Algonquin Bridges is a leading source of structurally superior and aesthetically pleasing Bridge Abutment Systems. Our unique solutions help you reinforce your bridge's infrastructure, ensuring that the soil is fortified and protected form settling and erosion.
Bolt-A-Bin Cellular Metal Bin Style – Bridge Abutment System
Our Bolt-A-Bin System is an economical, strong and versatile metal bin type system that assembles quickly with no pile driving or concrete pouring, making it well-suited for use in remote areas. Bolt-A-Bin cells are formed from strong, corrugated metal components bolted together at the job site and then filled with granular material. The fill material and the metal shell act as a gravity-retaining wall to resist surcharged loading, sliding and overturning of the earth behind the wall.
Lightweight, easy to install and ideal for remote areas
Galvanized and Aluminized Type 2 steel construction
Size range of 1.2 m to 8.5 m in height, in 3 m increments in length
MSE Retaining Wall – Bridge Abutment System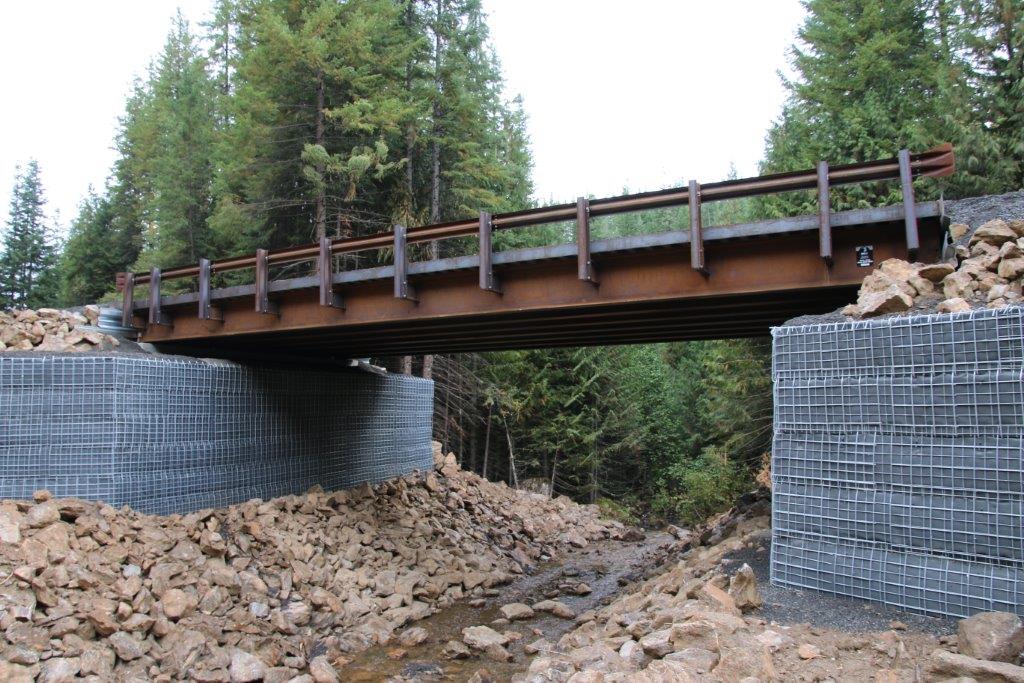 The fast, flexible and historically proven AIL MSE Retainingl Wall System offers cost savings and shortens the construction schedule compared to traditional cast-in-place bridge abutment types. Precast panels or wire facing, along with galvanized wire soil reinforcement, are used to retain the soil mass.
Aesthetic complement to bridge structures
Custom form liners create unique architectural treatments
Precast panels available in a variety of sizes and colours
Height increments are 610 mm
Adapts to curves, angles and steps
Algonquin Bridge can also provide Timber Abutments, designed and supplied by others.
Package it up and save with The Algonquin Bridge System

If you are looking for a completely turn-key packaged solution in accelerated bridge construction, Algonquin Bridge offers a range of packaged options in bridges, abutments, piers/towers, back walls, decking, bearing pads and guiderails in The Algonquin Bridge System.
The Kensington underground gold mine and associated milling facilities are located in the remote Berners Bay Mining District, about 45 miles northwest of Juneau. The site, which is only accessible...